z Old Banquet 2022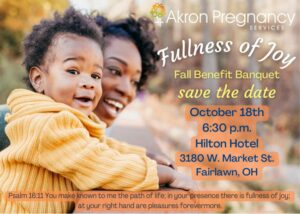 Please save Tuesday, October 18th for the Akron Pregnancy Services Fall Benefit Banquet.

APS and Eva Women's Clinic are actively engaged in serving the needs of our clients: moms in need of material goods, parenting education, and the love of Christ. YOU are vital to the care and support we offer. Join us on October 18th at 6:30 p.m. at the Hilton Hotel in Fairlawn as we share about the fullness of joy APS has been sharing and receiving in our new home, the Robinson House! Listen to our guest speaker, Scott Klusendorf, as he equips us to always be ready to give an answer for what we believe and inspires us to give generously to the cause of life!

Tuesday, October 18th at 6:30 pm

Psalm 16:11
You make known to me the path of life;
      in your presence there is fullness of joy;
            at your right hand are pleasures forevermore.